Tropicana Casino Resort

Location
The Tropicana Casino Resort is located in Atlantic City, NJ at Brighton Avenue and the Boardwalk. The casino features an Old Havana theme.
The casino's ideal location provides easy access to Atlantic City's famous boardwalk, and outstanding views of the beach and the Atlantic Ocean.
The Quarter is an enclosed shopping mall which is located within the Tropicana Resort. The Quarter also includes numerous restaurants.
Accommodations are in three hotel towers: The West Tower, The South Tower and The Havana Tower. Most rooms have beautiful views of the ocean or city. The Tropicana has a total of 2127 rooms, 350 of which are deluxe suites.
Whats New
The Tropicana now has a Sports Book.
Tropicana's New Facade
The Tropicana has a new Facade.
Also, a new $50 million revitalization includes far-reaching upgrades to its North Tower hotel rooms, a completely renovated casino featuring new games, an all-new AtlantiCare LifeCenter Fitness center and the spectacular must-see Tropicana Multimedia Light and Sound Show.
Poker at the Tropicana
Gaming
The Tropicana casino has 148,000 sq. ft. of gaming space, and 2900 slot machines. The gaming space has 197 table games which include 43 poker tables.
The casino offers all your favorite table games including: Blackjack, Craps, Roulette, Baccarat and Poker. It also has Keno.
The Jade Palace, which is on the casino floor, provides Asian games such as Mini-Baccarat, Sic Bo, Pai Gow, and Pai Gow Poker.
To see about poker tournaments at the Tropicana follow this link: Tropicana Poker.
The new Tropicana Palm Cove high limit slot parlor features more than 50 machines which include: Wheel of Fortune, Video Roulette, Game of Life, Double Gold and Super Times Pay Poker.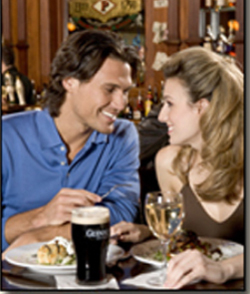 Dining at Carmine's
Dining at The Palm
Restaurants
The Tropicana has more than 20 restaurants which include those in the Quarter. Fine dining choices include:
Carmine's - Italian
Il Verdi - Northern Italian
Golden Dynasty - Far Eastern
Cuba Libre - Authentic Cuban cuisine
The Palm - Prime Steaks and Lobster
PF Chang's China Bistro
Olon - Seafood
More casual dining choices are: Ri'Ra' Irish Pub, the Bar Olon, Chickie's and Pete's, Tony Luke's and the Fiesta Buffet. There is also Hooters, the Broadway Burger Bar, Perry's Pizza, Casa Taco & Tequela Bar and A Dam Good Sports Bar.
Cuba Libre features Latin music and both classic and contemporary Cuban cuisine.
Carmine's was awarded best Italian restaurant by Casino Player Magazine in 2008.
Carmine's has a famous sister restaurant in New York City. Carmine's just came out with a recipe book revealing the restaurant's secret Italian recipes. To see about Carmine's cookbook follow this Link: Carmine's Cookbook.
The Palm is a Classic American Steak House which is famous for aged USDA prime beef and jumbo Nova Scotia lobsters.
TOlon features fresh seafood and locally produced foods and wines.
A Dam Good Sports Bar is an "American-style" restaurant with two giant 110" projection and 13 plasma screen televisions, all in High Definition.
To visit The Quarter follow this Link: The Quarter
Showroom
Nightlife and Entertainment
There are bars and lounges throughout the casino, hotel and The Quarter.
Boogie Nights is a 70's and 80's dance club located right in the heart of the Tropicana.
The Tango Lounge has a Latin Band and Live Performers. is right
There is also the Ri'-Ra', an authentic Irish pub.
The Tropicana Showroom has regularly scheduled, top entertainment shows. The Comedy Stop features the Nation's brightest comics.
For films, the Tropicana has an IMAX Theater that features a large format 75 by 55 foot screen and surround sound.
bluemercury Spa
Amenities
The Tropicana has an indoor pool, and a deluxe "bluemercury" Spa, and a salon.
The bluemercury Spa offers guests its celebrated results-oriented skincare treatments. bluemercury Spa's highly skilled therapists also provide oxygen facials, therapeutic couples massages, plus a special selection of signature luxury body treatments.
A well-equipped health club has a whirlpool, and state-of-the-art exercise equipment.
Accommodations
All guest rooms at the Tropicana are equipped
with cable televisions. Some guest rooms provide views of the boardwalk, beach and ocean. Two examples of Tropicana guest rooms are shown below.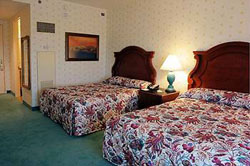 Larger Guest Room
Guest Room
The Tropicana recently added 26 new luxury suites for highrollers.
Shopping
The Quarter at the Tropicana has about 30 shops for you to choose from. To find out what shops are at the Quarter, follow this link: Tropicana Quarter
Things To Do
There are many interesting things to do in Atlantic City outside of the casinos. To find out about some of them follow these links:
Parking
The Tropicana has a large multi-level parking garage.
---
Casino Map
You can find the Tropicana using the map below. Click image to enlarge.
More photos of the Tropicana are shown below.
Tropicana Atlantic City
Tropicana, Boardwalk Entrance
---