Resorts Atlantic City
Location
Resorts Casino Hotel Atlantic City is located at 1133 Boardwalk. It was Atlantic City's first casino, opening in 1978. It is still one of the finest.
This location provides easy access to the famous boardwalk of Atlantic City, with outstanding views of the beach and the Atlantic Ocean.
There are two hotel towers: The Ocean Tower and the 27-story Rendezvous Tower. There are a total of 942 guest rooms.
What's New
Sports Book
Resorts is now taking bets on it's newly opened Sports Book.
Expanded Meeting and Conference Space
In the summer of 2015 Resorts opened a $9.4 million expansion of its meeting and conference space.
Margaritaville at Resorts
A new Margaritaville opened at Resorts in Atlantic City on May 24, 2013. It includes a Margaritaville restaurant, a Five OClock Somewhere Bar, a themed gaming area, two retail stores and a coffee shop on the land side of the Boardwalk.
LandShark Bar & Grill
There is also a Jimmy Buffet LandShark Bar & Grill situated on 200 feet of beach frontage, that has a year-round, full-service bar and restaurant on the beach. The Landshark Bar and Grill is built on the footprint of the former Steeplechase Pier.
Margaritaville at Resorts Atlantic City
Landshark Bar and Grill - Boardwalk Entrance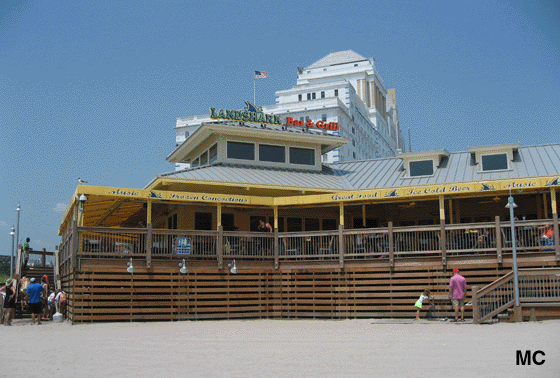 Landshark Bar and Grill - Beach Side
Landshark Bar and Grill - Inside
Resorts Margaritaville Landshark Beach Bar
Resorts Slots
Gaming
You will find 100,000 sq. ft. of gaming space, and 2200 slot machines at Resorts.
Resorts has all the table game favorites: Blackjack, Craps, Roulette, Baccarat, Poker, and Spanish 21. They also have Mini Baccarat, Pai Gow, and Pai Gow Poker.
Cappriccio
Restaurants
Gourmet Dining at Resorts includes:
Gallagher's Steak House
Capriccio - Italian
Margaritaville
Landshark Bar & Grill
They also have Gallagher's Burger Bar, Breadsticks Cafe & Grill, The Eastwinds Chinese Restaurant, Cielo and the Quick Bites fdood court.
Gallagher's famous New York steakhouse is now also in Atlantic City, at Resorts. They feature dry-aged beef and classic seafood.
Capriccio offers gourmet Italian food and a view of the ocean.
Margaritaville is Resorts new Jimmy Buffetts's themed restaurant. There is also a Jimmy Buffet Landshark Bar & Grill.
A new Quick Bites Food Court includes: Dunkin Donuts Express, The Original Soupman, Ruby's Diner, Famous Famiglia Pizzeria and Hagan Daz Ice Cream.
5 o'Clock Somewhere Bar
Nightlife and Entertainment
Nightlife spots incluse: The 5 o'Clock Somewhere Bar, Bar One, The Land Shark Bar & Grill and Margaritaville After Dark.
The new Landshark Bar & Grill Opens right on to the beach.
The Resorts Superstar Theater regularly presents nationally known entertainers.
Accommodations
Resorts has has 942 guest rooms, split between the Rondevous and Ocean Towers. Examples are shown below.
Ocean Tower Standard
King Room
Ocean Tower Standard
Double Room
Rondevous Tower Premium
King Room
Rondevous Tower Premium
Double Room
Indoor/Outdoor Pool
Amenities
There is an indoor/outdoor pool, a Spa, whirlpools, saunas and the latest in weight-training equipment.
Resorts Spa & Health Club is your personal haven in Atlantic City. Escape to invigorating massages and relaxing saunas, whirlpools, and steam rooms. Enjoy sweeping views of the Ocean from the indoor-outdoor pool or visit the fitness room for a cardiovascular workout. Those looking for an extensive weight training session will also find just what theyre looking for at the Resorts Spa.
Things To Do
There are many interesting things to do in Atlantic City outside of the casinos. To find out about some of them follow these links:
Parking
Resorts has a large multi-level parking garage.
---
Casinos Map
You can find Resorts using the map below.
Click image to enlarge.
More photos of Resorts are shown below.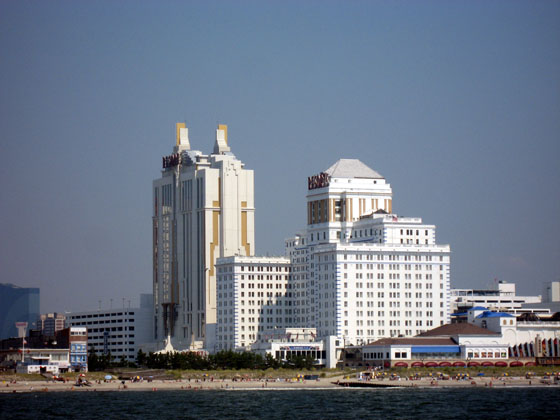 Resorts Casino Hotel, Atlantic City
Resorts, Boardwalk Entrance
---