Location
Bally's Atlantic City is located on the boardwalk between Park Place and Michigan Avenue. The Boardwalk and Park Place are the most prestigious and expensive properties in the Monopoly Game. This wonderful location provides easy access to Atlantic City's famous boardwalk along with outstanding views of the beach and Atlantic Ocean.
It has a modern glass-covered tower. It also has the Wild Wild West Casino which incorporates an authentic Wild West theme and the restored Victorian-era Dennis Hotel. 1,240 well appointed guest rooms are provided.
It features world renowned entertainment, award winning restaurants and busy, friendly casinos that are open 24 hours a day.
Bally's is owned by the Caesars Entertainment Corporation, which is the world's largest provider of casino entertainment. Caesars owns three casinos in Atlantic City, one of which is Bally's.
Gaming
There is the Bally's Casino and the Wild Wild West Casino. There is also the Baccarrat Palace. These facilities provide 220,000 sq. ft. of gaming space and 5000 slot machines.
Casino games include all the traditional table games, such as: Blackjack, Roulette, Craps, Poker, Video Poker and Slots. The Baccarat Palace features Baccarat, Mini Baccarat, Asian Poker, Pai Gow, and Pai Gow Poker.
At the Wild Wild West casino visitors gamble on old wood tables with dealers dressed in western attire.
Also see the new Wild, Wild West Sports Book at Bally's.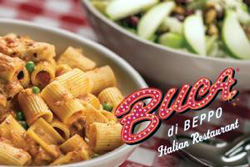 BUCA DI PEPPO
Harry's Oyster Bar
Restaurants
Bally's has numerous restaurants, including:
Guy Fieri's Chophouse
BUCA DI Beppo - Family Style Italian
Noodle Village
Johhny Rockets'
Harry's Oyster Bar
Others are: Quick Bites, Primo Pizza', Sack of Subs, Boardwalk Cupcakes Guy's Bar-B-Que Joint.
Harry's Oyster Bar is also a Sports Bar.
Guy Fireri's also serves seafood.
Nightlife
Nightlife hotspots at Bally's include:
Mountain Bar
The Bar at Harry's
The Lobby Bar
Bally's Beach Bar (summer)
Beach Bar
Bally's Beach Bar is open during the summer months. It is located right on the beach.
To see more about Bally's Beach Bar and larger photos follow this Link:
Ballys's Beach Bar
Entertainment
Bally's has the Legends of Concert Theater.
The theater hosts stage show spectaculars, which feature live recreations of yesterday's shows and today's hotest superstars.
Bally's Indoor Pool
Amenities
Bally's features a world-class Spa which boasts mosaic tiled whirlpools, fountains, and tropical plants. The Spa offers a luxurious array of treatments including Swedish massage, aromatherapy, body wraps and facials.
The Spa also features a pool, hot tubs, and a fitness room. The Spa's indoor pool lies beneath a large atrium with skylights. At night, the pool features a dazzling
underwater lighting system.
Accommodations
The 48 story Bally's towers over the Atlantic City Boardwalk with magnificent views of the beach
and Atlantic Ocean. Bally's is one of New Jerseys largest hotels, featuring 1,240 well appointed hotel rooms.
Bally's Garden Tower Room
Bally's Tower Room
New Dennis Hotel Room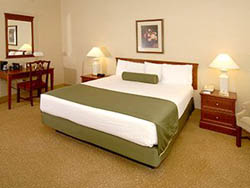 Classic Room
The Dennis Hotel is also part of Bally's. It has been completely renovated and modernized. It provides 379 more rooms and suites. To find out more about the Dennis Hotel, follow this Link: Dennis Hotel.
Shops
Shops at Bally's include:
Picks N'Wicks
Studio
Park Place Jewelers
The Gift Shop
Spa Pro Shop
Things To Do
There are many interesting things to do in Atlantic City outside of the casinos. To find out about some of them follow these links:
Parking at Bally's Atlantic City
There is a large multi-level parking garage.
Casino Map - You can find Bally's using the map below.
The Claridge and the Dennis are adjacent to Bally's.
Click image to enlarge.
More photos of Bally's are shown below.
Bally's Atlantic City. The Claridge is at the right.
Bally's Atlantic City, another view. The Claridge is at the right.
Bally's Boardwalk Entrance
---
---