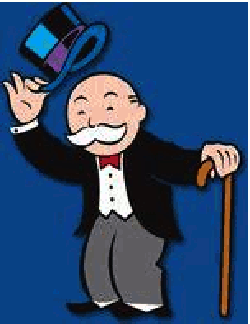 Mr. Monopoly is the charming mascot character that you see poping out of the central O in the Monopoly Game's Name/Logo. See above.
The mascot character was originally named Rich Uncle Pennybags by Parker Brothers. The character was apparently inspired by the stature and dress of finacier J.P. Morgan.
The characters name was changed to Mr. Monopoly by Hasbro as part of a 1999 marketing campaign. Parker Brother's is a subsidiary of the Hasbro Toy Co.
Each year Forbes Magazine publishes a list of the worlds 15 richest fictional characters. In 2009 Mr. Monopoly, an Atlantic City real estate tycoon, ranked 6th with a net worth of $7.1 Billion.
In 2011, because of the suppressed real estate market, he slipped to 9th on the list, with a net worth of $2.6 Billion.
Mr. Monopoly is a popular collectable.
You can often find Mr. Monopoly collectable items on eBay. Use this link to find them: Mr. Monopoly on eBay
.
To see 100 Monopoly Game editions, follow this Link: Monopoly Game Editions